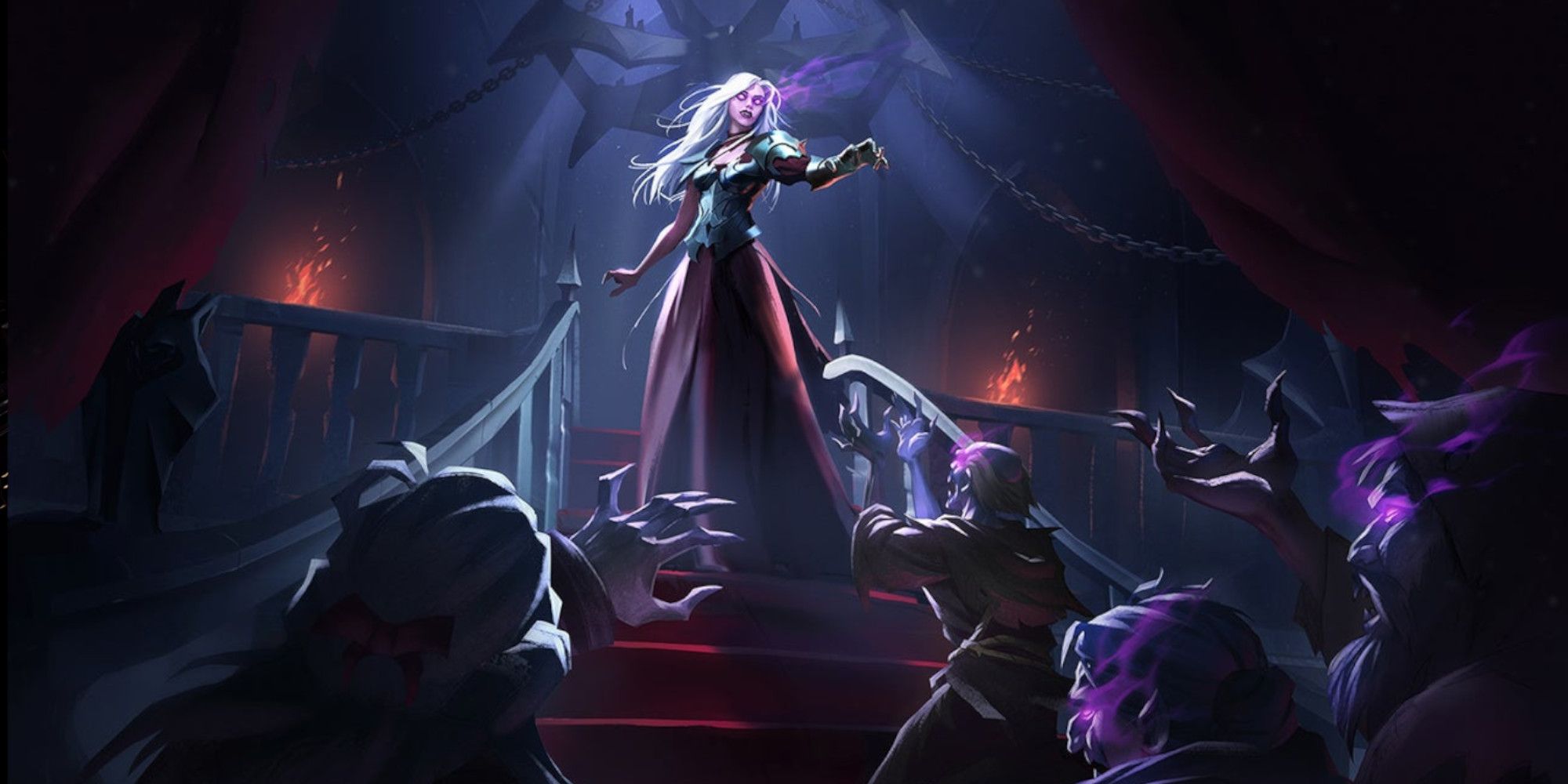 V Rising Endgame Will Feature Dracula And "Game Of Thrones Vibes"
V Rising evoked a sense of deja vu in the weeks following its launch in Early Access. It's a top-down survival game by an indie developer that soared to the top of the charts, hitting a million in no time. Does this still sound unfamiliar to you? Maybe swapping vampires for Vikings might ring a bell. It sure looks like V Rising is the Valheim of 2022 – hopefully, unlike the latter, the vampire version will be able to carry on.
Developer Stunlock Studios likely kept this in mind when determining the game's future content roadmap and endgame. The developers recently discussed what they have in store during a conversation with streamers, Asmongold and Rich Campbell (thanks PCGamesN).
RELATED: V Rising's Sunlight Mechanic Is Extremely Cool, Until It's Not
"Our ambition is to bring Dracula back," said game director Peter Ilves. He went on to explain, "What is his role, can you challenge him, can you become Dracula in the endgame, will you sit on the throne of darkness?" He revealed that the team is "really intrigued" by how this will play out, and players "will definitely see 'Dracula return' as some kind of big event" in the future.
"Dracula isn't just the endgame," added creative director Martin Lövgren. "Its effects on the world will be noticeable even in the early game. Its impact will be something you feel throughout the journey.
The endgame of V Rising eventually turns into a factional war between multiple groups vying for power. The developers described it as having "Game of Thrones vibes" – perhaps not the best comparison to make, given how the HBO series ended and the backlash it received. Regardless of how the game's upcoming content turns out, we know the big bad from Transylvania will be back to shake things up.
Last month, the game hit one million copies sold and also outlined future plans for its early access period. "The next step will be to analyze all of the data and feedback from the first few weeks of Early Access to ensure we can move the master plan forward," the studio said. "We're already working on new material to bring more life to Vardoran, but improving the game isn't just about adding more content on top of what we already have."
NEXT: Which Pokemon Town Would Be Better To Live In?