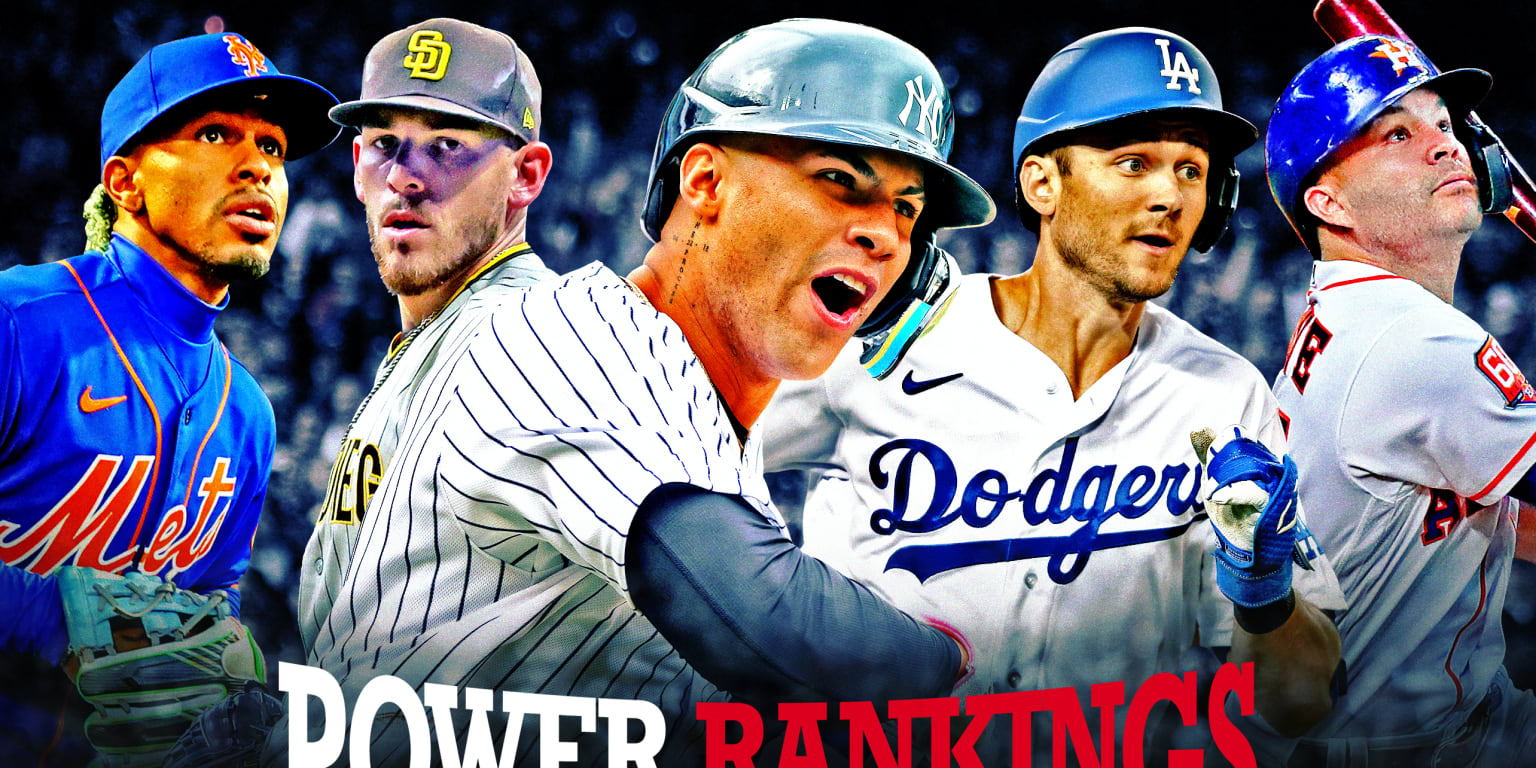 MLB Power Rankings 2022: NY, SoCal Clubs Reign
Probably, but let's do it anyway. In total – American League and National League combined – 13 teams are either in the top three of their respective races or within five games of third place. Some you're used to hearing about – the Padres, Giants and Braves, for example, are among those used to being in contention for a playoff spot.
But there are at least two teams whose records may not be up to snuff but are still in the running. The Angels are three games under the .500 mark, but remain 4 1/2 games shy of third place in the Wild Card in the AL. The Rangers, four games under .500, are just behind, five games down.
The NL race mostly consists of the usual suspects. The Brewers and Cardinals are half a game out of third place, with the Phillies, now four games above .500, just 2 1/2 games away.
Biggest Leap: Rangers have jumped four places from 20 to 16. They still have work to do if they want to be present in the AL West, but things are slowly moving in a more positive direction. Texas was in line for a third road series in four tries before losing to Detroit on Sunday and settling for a four-game split.
Biggest drop: There hasn't been much movement in this category this week. The biggest swing belongs to the Angels, who fell just two places, going from 16 to 18. They had a good weekend in Seattle, taking four of the Mariners' five, thanks in part to Mike Trout, who hit five home runs in the series.
1) Yankees (49-17; last week: 1)
DraftKings World Series odds: 4.5-1
The Yankees lost in Toronto on Sunday, ending a nine-game winning streak, but it barely came as a blow to an otherwise magical season. They entered this contest with the Blue Jays winning 49 of their first 65 games, the fourth time in their history that they have staged this type of start. The only other years they've matched that success through 65 games? There were three: 1928, 1939 and 1998, all of which ended in World Series victories.
2) Mets (44-24; last week: 2)
DraftKings World Series odds: 7.5-1
The Mets, 10-7 in June, have won five of their last seven games, while posting a 2.20 ERA in those five wins. Left fielder Jeff McNeil is on a seven-game hitting streak, batting .455 (10 for 22) with four runs, two doubles and five RBIs during that streak.
3) Padres (41-27, last week: 4)
DraftKings World Series odds: 13-1
The Padres have been one of the best teams in baseball for most of the season, but they will be tested better over the next few weeks playing without Manny Machado, who sprained his left ankle on his way to the first aim. Machado was producing All-Star worthy numbers at the time of his injury, batting .328 with a .945 OPS.
4) Dodgers (40-25; last week: 3)
DraftKings World Series odds: 4.5-1
The Dodgers entered Sunday's game against Cleveland having allowed four runs in their previous four games. The Dodgers' starters have a 2.57 ERA, leading the Majors, while their 2.91 ERA trails only the Yankees (2.86).
5) Astros (40-25; last week: 5)
DraftKings World Series odds: 6.5-1
The Astros' depth is being tested, with injuries to key players Yordan Alvarez and Jeremy Peña, but the most intriguing story begins on Tuesday, when they play nine games against just New York teams (which happen to be being #1 and #2 in our Rankings). The Astros, the only team with a winning record in the AL West, will host the Mets for two games before heading to the Big Apple for six straight games — four with the Yankees, two with the Mets. The stretch ends with a single home game with the Yankees on June 30.
The rest of the field of 30
Voters: Alyson Footer, Anthony Castrovince, Paul Casella, Mark Feinsand, Nathalie Alonso, Doug Gausepohl, Mike Petriello, Sarah Langs, Andrew Simon, David Venn, Brett Blueweiss