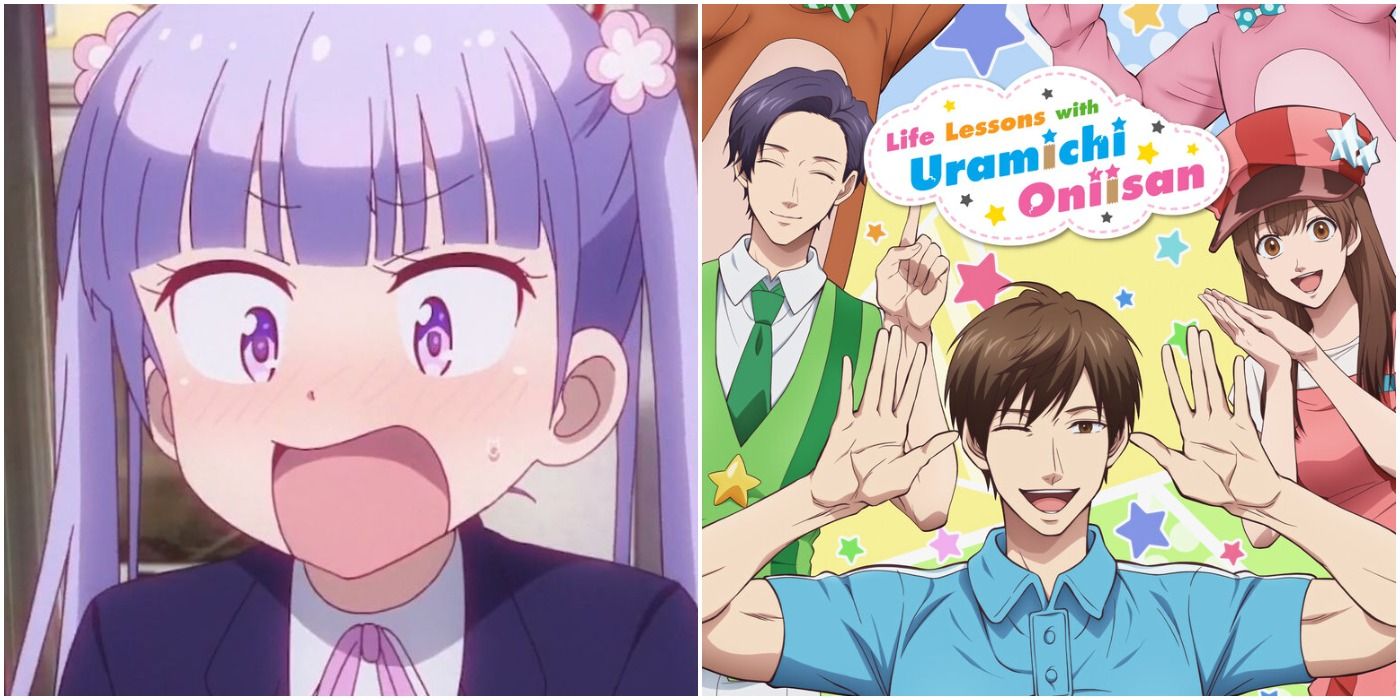 10 Slice Of Life Anime Guaranteed To Make You Smile
Sometimes what makes an anime series great is the fact that it gives viewers a big smile or even a big laugh while they watch. While great comedic and heartfelt moments can happen in a variety of anime genres, those great moments that happen in a slice of life are special simply because of the relevance and authenticity of the genre.
RELATED: 10 Isekai That Are Slice-of-Life Instead Of Action-Based
Slice of life anime is a terrific genre for the viewer looking to relate to a character's journey, or even the person simply looking for something to make them laugh.
ten

School Babysitters – Ryuuchi is a great babysitter for kids
Ryuuichi was left to fend for himself and his little brother Katoro when the president of Morinomiya Academy, Youko Morinomiya herself, decided to take them in. All she asked for in return was Ryuuichi's babysitting services. Despite working among other students like him, Ryuuichi ends up spending most of his free time caring for a group of rambunctious and fun-loving toddlers.
Witnessing the bond between the characters in this series, whether blood related or not, is what makes for such a fun watch and is guaranteed to put a smile on anyone's face.
9

K-On! – The Stars Of The Hokago Tea Time Band
Finding a group of people to fit in with can be stressful, especially as a high school student, but K-On! encompasses how great it can be to find that group of friends who share your interests and bring you the greatest joy.
RELATED: 10 Unforgettable Anime School Trips, Ranked
Not only is it fun to watch the five Hokago Tea Time girls practice, write and play music together, it's even more fun to watch them bond during school, practice sessions and especially their tea hours. The light comedic element of the series is guaranteed to ensure complete enjoyment for those watching.
8

Life Lessons with Uramichi Oniisan – The Real Truths of Adulthood
The lead of the series, Uramichi Omota, is one of the hosts of a children's morning show. Now, that might sound very cheerful and heartfelt, but Uramichi tends to keep it a little too real with the kids on the "Together with Mama" show.
Life Lessons with Uramichi Oniisan is perfect for anime fans who like dry and sometimes out of place adult humor. Uramichi isn't the only adult on the show to entertain the viewer with his all-too-real, grown-up advice. The sudden shock of realism is what keeps the humor of Life Lessons with Uramichi Oniisan so fresh.
7

New game! – See a young designer become your own
New game! is based in the offices of an all-female video game company. The series picks up as soon as the main protagonist, Aoba Suzukaze, joins the Eagle Jump team. She's a young girl fresh out of high school, unsure of herself and her talents, but with the help of her friends old and new, she manages to thrive.
Watching Aoba grow as an artist among his fellow Eagle Jumpers brings smiles in itself, but also allows you to see the different dynamics between the New game! characters is just as fun.
6

Ouran High School Host Club – Inconceivable Circumstances Leading to Great Friendships
Ouran High School Host Club is a wild ride right from the start. Haruhi Fujioka finds herself in a sticky situation when she ends up owing money to the all-boys host club at her school. They agree for her to pay them back, but to do so she must pretend to be a boy and join the host club as the seventh member.
RELATED: 10 Shojo Anime Everyone Seems To Love Or Hate
This slice of life anime has all the great tropes: unrequited romances, comedic bits, and even a bit of a beach episode, but all the fun moments between Haruhi and the six guys from Ouran High School Host Club are what makes the series so joyful to watch.
5

Wotakoi – An Otaku couple related to their mutual interests
Wotakoi is the story of a sweet, clumsy and funny love story. Old childhood friends, Hirotaka Nifuji and Narumi Momose find out they work in the same office when Nifuji exposes Narumi for being an otaku, though he doesn't know it was supposed to be a secret. Amid the tensions, they find they can still bond around their mutual interest in games and otaku culture.
Friendship eventually leads to a relationship and that's where all the fun begins. Watching the heartwarming yet hilarious relationship between Narumi and Nifuji unfold is enough to put a smile on anyone's face.
4

WWW.Work!! – The ability of staff to act completely differently in front of customers
The series takes place at the Wagnaria restaurant. It's run by an overly laid-back manager who tries, but fails, to keep the peace between all of his staff, as they can't help but get into all kinds of weird and funny trouble. That said, they are still professional enough to make sure they only show smiling faces in front of customers.
WWW.Work!! is a series filled with unconventional friendships, unrequited love, family drama, and there are even some supernatural elements in there too.
3

Komi can't communicate – An endless cycle of awkwardness and misunderstanding
Komi attracts a lot of attention from her classmates, being considered the prettiest girl in the class. Her classmates think she's quiet because she's mysterious, but they don't know that she has paralyzing anxieties that prevent her from speaking. Her classmate, Tadano, eventually finds out the real reason why Komi is so calm and agrees to help her overcome her fears.
The combination of classmate misunderstandings and Komi's awkward moments is what creates a wonderful new kind of comedy that is sure to bring laughs and smiles to viewers.
2

A restaurant in another world – Watch creatures gather to enjoy good food
A chef known to his staff as "Master" opens his doors once a week to invite all kinds of creatures from a different world, to enjoy the great taste of Western Restaurant Nekoya. The restaurant's mystical doors have opened to an array of fantastical beings including fairies, princesses, demons, and more.
RELATED: 10 Anime To Watch If You Liked Tropical-Red! Precure
Each episode is completed with scenes from the lives of different clients, which gives the series a lightness that makes it even more relaxing and enjoyable.
1

Horimiya – Watching the bond grow between two very different people
Horimiya is the story of two high school students who have never had anything in common who come together to form a near-perfect relationship, with the involvement and interruption of their close friends and family.
Hori and Miyamura may be the foundation of the series, but it's the set of characters that makes it all the more interesting. Watching Miyamura take care of Hori's brother or Miyamura grow closer to Hori's friends is sure to put a smile on anyone's face.
NEXT: 10 Anime Couples Who Remained Friends After Breaking Up

following
10 Most Difficult Squads In The Shonen Anime

About the Author